Taking a new path always means change in our lives. Often, however, this does not mean discovering something new, but rather looking at well known things from a completely different perspective.
Sometimes you have to change your perspective
Our customers come to us with very individual needs and goals.  But they all have one goal in common. Every single one of them has decided to change something in his or her life by actively trading … to change his or her own perspective … or perhaps to dare a new start.
In the meantime the offer of free online education is almost limitless. Are free trading trainings therefore basically bad? Not at all! There are very good webinars for your own professional training, but most traders struggle with two main problems …
Why do most traders fail?
Just as every profession is preceded by an education, trading does not lack a good education. That's why many traders fail to find a suitable structure for planning their education. Through our private lessons you will get more structure in your trading and in your life.
But much more important is your own perspective! How do you handle a sequence of multiple losing trades? Do you keep your stop guidance and money management consistent or do you often trade against your own set of rules?
Every trader is a human being with his or her own needs and desires. Your personal success depends entirely on yourself. Through proper personal development, you will learn how to handle your emotions in trading. Without fear or greed you have the chance to earn money with trading in the long run.
What does mentoring look like?
Before you decide on a mentoring package, we find out in a free counselling call whether we fit together and how we can best help you. Regardless of how long we may accompany you, every single mentoring is completely individual and 100% adjusted to you as a person.
Based on the Dow Theory (technique) as well as the karmic principle of cause and effect (humanity and personality), we help you to reflect, improve and expand your perception and behavior in trading. Our goal is to help you achieve your self-imposed goals in an acceptable time frame with joy and peace in your heart.
Our instructors & teachers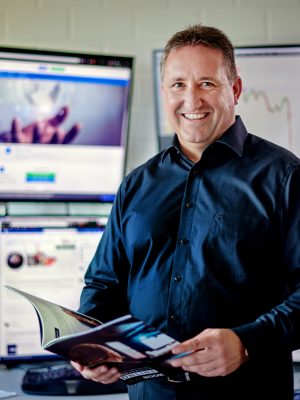 I love to teach trading in a human way, because nothing is more important than personal happiness and inner peace. So I have found my purpose of existence in helping everyone who wants it to achieve financial and personal success.
More than four years of training and intensive mentoring by Markus Gabel as well as my own stable trading puts me in a position to pass on my first-hand knowledge to you.
Through my own personal development I have discovered how important people are as traders. Let's explore your path together and make you a successful and happy trader.
Contents of the mentoring
Everyone involved in trading, investing or stock market trading has one goal: to make money. However, the reality is often different. Our private lessons are designed to help you achieve this goal permanently and as quickly as possible.
Book now and change your life
Let's find a package that fits for you
Your questions - my answers
In 4 weeks to measurable trading success
We restructure your trading in the shortest possible time
In-depth knowledge combined with training sessions on correct trend recognition and signal generation
Simple and working strategies as well as the right mindset for your success
The great DowHow Trader education
Become a professional trader with the Premium Package